Last weekend I had the opportunity to visit my mission with one of my dearest mission companions, Jenni Matthews. I had visited Phoenix last June to surprise my mission president before he was released but the few of us that did go ended up hanging out with each other in Phoenix & I did not have the opportunity to visit all the people that I wanted to. It was great to hang out with my mission friends in Phoenix without the rules & restrictions of time & I loved the hot weather. I miss the heat, especially when it it freezing cold here in Salt Lake. I just want warmth. So this last weekend when I went, I was hoping that the weather would be just as warm...90+ It was not. haha. It was just as cold as SLC. It was okay, I do plan on visiting again around aug-oct.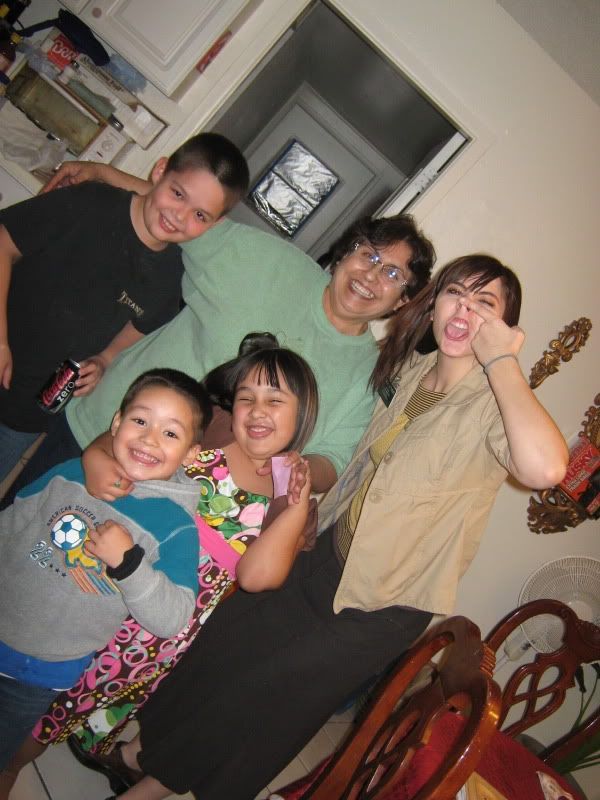 Anyways, It was great to visit the people that I taught & baptized and to actually see that I've actually impacted a persons life during my missionary work. I especially loved seeing peoples reactions when we would go over & surprise them with our visit. haha. It made my heart very happy. The first people we visited was a little boy & his family that I taught with hna matthews & crowley. We had driven to their old house, luckily matty had the grandmas phone number & we found their new house, which luckily was only 2 miles down the road.The boy that we baptized was 10 y/o at the time & now he was 12...almost a teenager. gah! He was acting like one too :P, his younger sister was baptized last year & unfortunately we weren't able to attend it because the grandmother called matty's parents house & didn't say who her name was. :(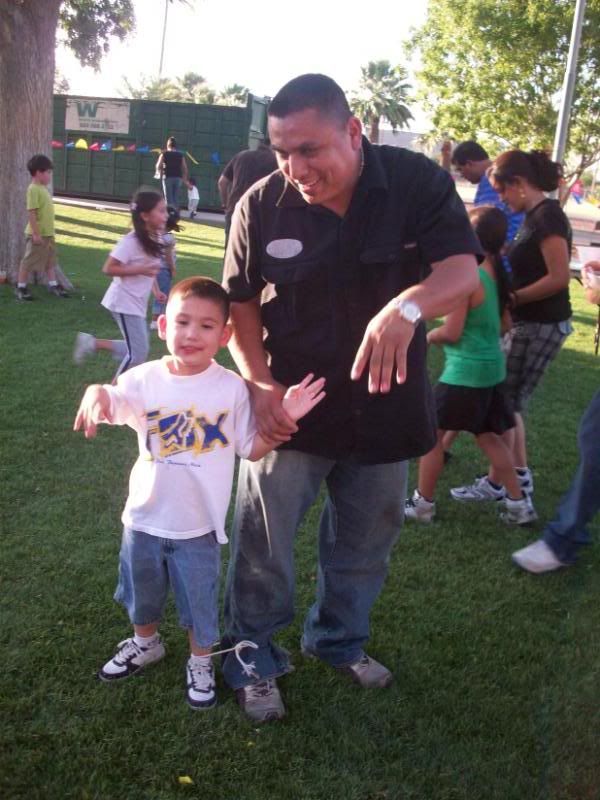 Max 5 y/o & Adan
Max 7 y/o & Adan
We then passed by another recent convert that both me & matthews had taught, the famous Adan Marquina. haha. He's famous to the hermana's because he was so friendly & flirty with us. He was also famous to the district, zone & president for that very reason. haha. He's a great guy & has a little boy who was only 4 at the time that we taught him, he's 7 now! gah! He will hopefully get baptized next year when he turns 8 & we will all hope to be there for him. But he wasn't home, we did end up visiting him later that night. That was a good visit. Max was my little 'boyfriend' on the mission, he had a crush on me. so cute.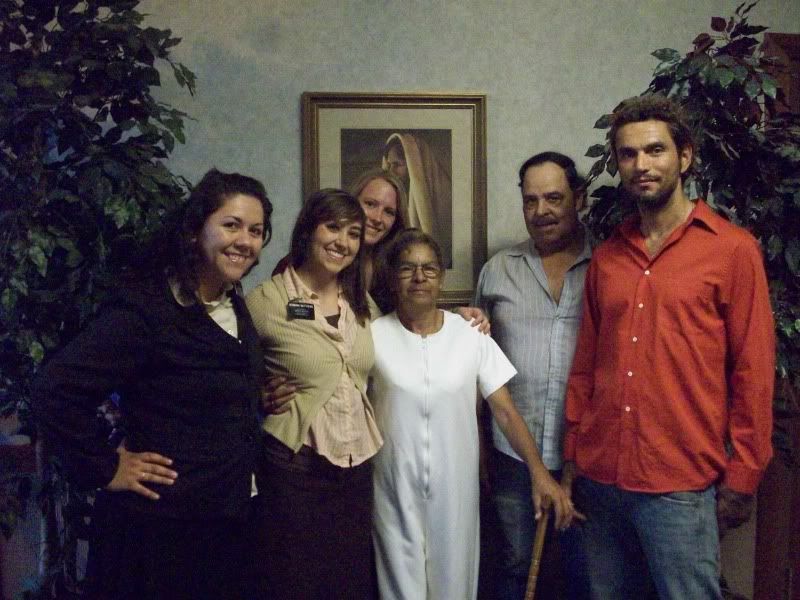 Angela on her baptism with Husband & son.
We also had the luckiest chance to visit one of our deceased converts husbands. That was a great visit with him because last time he wasn't there & when matthews came with her parents last year, he wasn't home either. His wife, Angela is who me & matthews taught & found while tracting. It was quite miraculous how we found her. As you know in Phoenix its blazing hot & we still have to do tracting to reach out goals of teaching & baptizing. Me & Hna Matthews had prayed over how to achieve this feat since it was hot as hell outside & would feel like dying after 1 hour.
HOT HOT HOT! 2010
Our answer was that we found visit the Less Active in the ward & then knock doors in that area for 1 hour that way our tracting hours would be more manageable & we would at least get a chance to go inside a persons house to chill off. I think Angela's street was the 2nd or 3rd L.A. that we tried to visit, she didn't open her door completely to us, we could barely see her through the storm door. She hardly had any voice & could barely walk. Hna Matthews was amazing throughout our visits with her, she just had instant compassion & love for Angela. She was basically "golden" & ready to receive the gospel in her life. Within 12 weeks or so she was baptized. Unfortunately her health was declining & her husband informed us that she died on March 9, 2010-that's the day I went home from my mission. I didn't hear about this until a couple of months after I was home. Angela unfortunately doesn't have a grave because she wanted to be cremated-that was a bit weird for me to know that her mortal body was burned & now put in a golden box. Her husband was so sweet to us, he loved her very much. He would on rare occasion hear our lessons but he never fully accepted our message. I think one day he will accept the gospel. Hna matthews did get permission from her husband to start doing Angela's temple work since it has been over a year since her death. The next task is get her birth, death, baptismal & marriage dates to do so.
Familia Diaz
Afterwards we popped into an awesome family from the Estrella ward who would have invite over their house for dinner whenever ours bailed on us. La familia diaz-i just love them!! They're such a fun family, hno & hna diaz are great to each other. He actually put fake manicured toes on hna diaz for a party they were going to that evening. haha.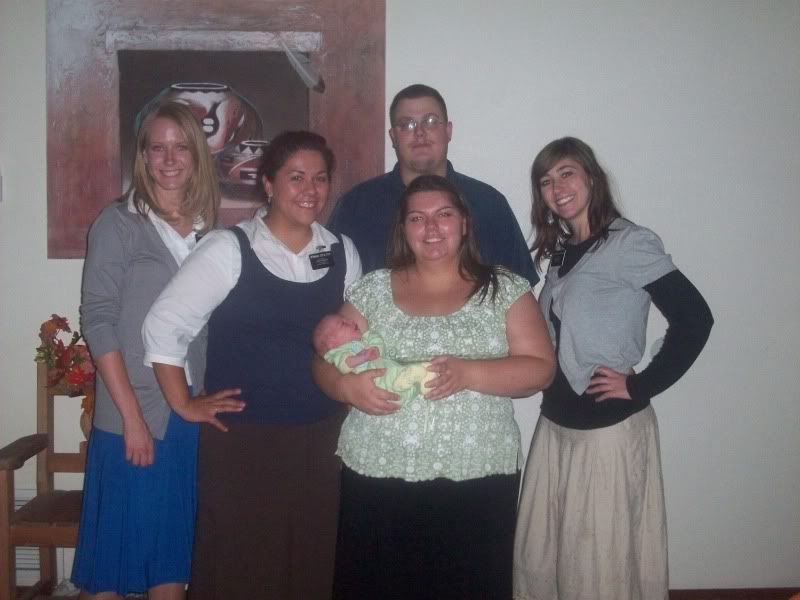 Hna Jensen, Linda, David, Aubrey, Jackson (newborn) Jenni
We also visited the Juchau/Gibbons family from the Garden Lakes ward, we were so lucky to find them all at home. They are one of my favorite families because they're just normal & they saw us as normal girls & not just as strict robot missionaries. It especially helped us that David accepted us & we were able to visit & be friends with him.
Linda, David, Aubrey, Jackson 2 1/2, Jenni
He isn't a member, but his wife & his wife's family are active members. David is an amazing cook & we would go over to have cooking lessons to fellowship him & for us to get bomb food. I served in the Garden Lakes ward for 9 months-I never baptized. I taught & taught & taught but no baptisms. Its okay, I have been blessed with David & his family as my friends & will be ecstatic the day that he accepts the gospel.
On Sunday me & matthews had the chance to attend both the Moon Valley & Monte Vista. I finished my mission in both these wards & was happy to come back & attend church. It coincidentally happened to be fast & testimony meeting. haha. I only laugh because it was great timing for us to be there & bare our testimonies to wards we served in. We received lots & LOTS of great hugs from the ward member, it was great to hug my old bishop that I served under there. He was such a great & awesome bishop. He gave me great council & blessings during my last transfer with 2 greenies. A lot of members said that they missed having sister missionaries in their ward, i guess after i left they only had the sisters for one more transfer before elders came in & they haven't left yet. It felt great that they remembered us, we kinda are unforgettable, there was always either 2 or 3 of us in the ward & the members were amazing. They would give US referrals & be actively participating in the lessons. Just an amazing ward.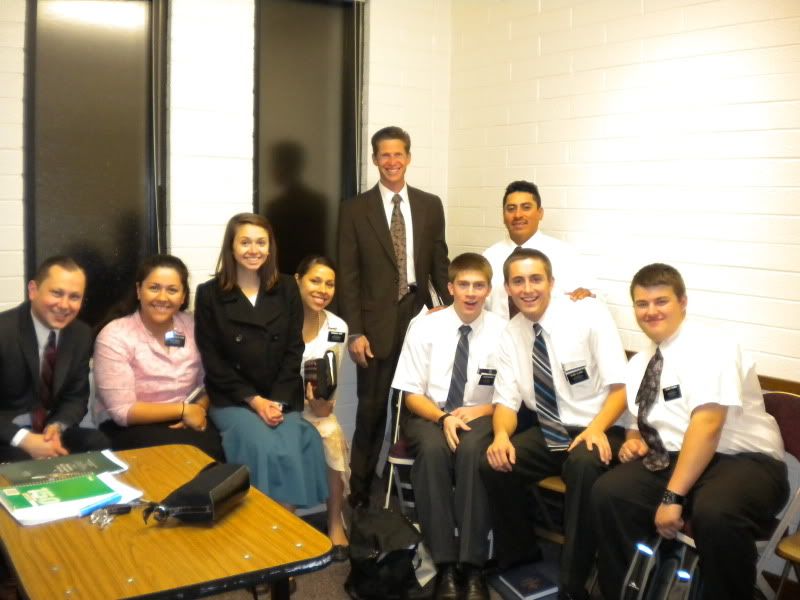 Hno Ponce right next to me. Monte Vista had 7 missionaries. wow!
We also stayed for the Monte Vista ward. I absolutely love this ward. This was actually one the first wards I served in at the beginning of my mission, it was so small that it wasn't even a ward or a branch but a 'group.' My mission came full circle when I ended my mission in this ward because I basically started in it & have seen it bloom. I forgot how much I love & missed church in spanish. My heart swelled with happiness when I saw Hno Ponce, he was my ward mission leader & was truly amazing. I about cried when I saw him. I gave him a great big hug. He also gave me a letter that he wrote me but never had the chance to send it out. I haven't read it yet, I feel it is too precious & i need to read it at an appropriate time.
Oh how I see the blessings of serving my mission now after I have served it. I thought that the blessings would come automatically after I served but it has been slow. Which I think has been great because I'm not use to things being given to me easy. We also had the chance to quickly drive by the location of the Phoenix temple. I can't wait to come back for the dedication of it.